"[A STRANGE SCOTTISH SHORE is a] winning sequel…Gray smoothly blends fantasy elements into the twisty plot, which builds to a shocking yet satisfying climax."
—Publishers Weekly
---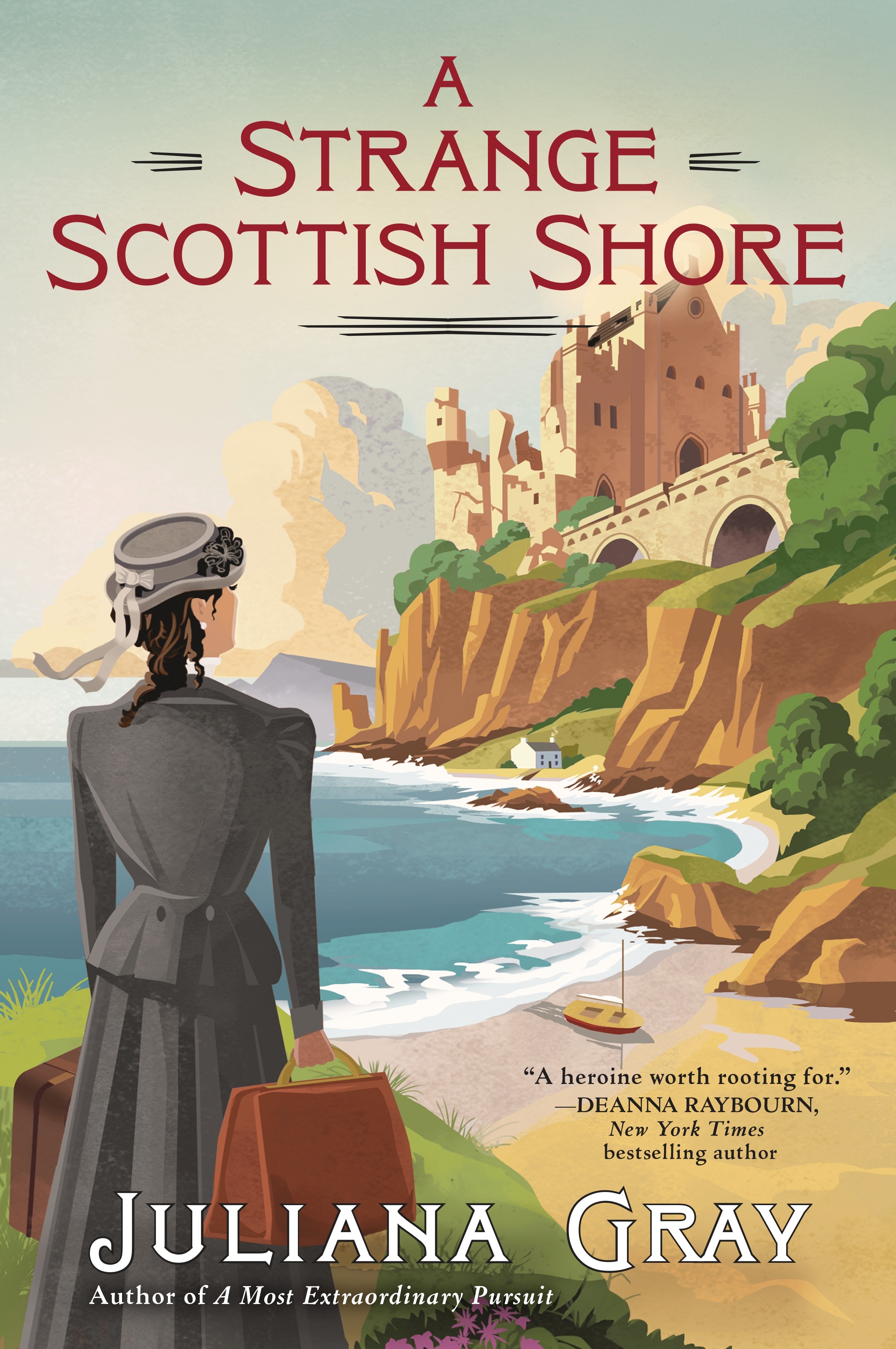 The acclaimed author of A Most Extraordinary Pursuit brings a dazzling voice and extraordinary plot twists to this captivating Scottish adventure...
Scotland, 1906.
A mysterious object discovered inside an ancient castle calls Maximilian Haywood, the new Duke of Olympia, and his fellow researcher Emmeline Truelove north to the remote Orkney Islands. No stranger to the study of anachronisms in archeological digs, Haywood is nevertheless puzzled by the artifact: a suit of clothing that, according to family legend, once belonged to a selkie who rose from the sea in ancient times and married the castle's first laird.
But Haywood and Truelove soon discover they're not the only ones interested in the selkie's strange hide, and when their mutual friend Lord Silverton vanishes in the night from an Edinburgh street, the mystery takes a dangerous turn through time that only Haywood's skills and Truelove's bravery can solve…
"Gray's ability to craft superbly creative plotlines that hold readers captive and suspend their disbelief is the gift of a remarkable storyteller."
—RT Book Reviews
---
A MOST EXTRAORDINARY PURSUIT:
"A brilliantly conceived novel."
—Booklist (starred review)
February, 1906
. As the personal secretary of the recently departed Duke of Olympia—and a woman of scrupulous character—Miss Emmeline Rose Truelove never expected her duties to involve steaming through the Mediterranean on a private yacht, under the prodigal eye of one Lord Silverton, the most charmingly corrupt bachelor in London. But here they are, improperly bound on a quest to find the duke's enigmatic heir, current whereabouts unknown.
An expert on anachronisms, Maximilian Haywood was last seen at an archaeological dig on the island of Crete. And from the moment Truelove and Silverton disembark, they are met with incidents of a suspicious nature: a ransacked flat, a murdered government employee, an assassination attempt. As they travel from port to port on Max's trail, piecing together the strange events of the days before his disappearance, Truelove will discover the folly of her misconceptions—about the whims of the heart, the motives of men, and the nature of time itself…
Praise for A MOST EXTRAORDINARY PURSUIT
"A most extraordinary new mystery!"—Susan Elia MacNeal, New York Times bestselling author

"A heroine worth rooting for."—Deanna Raybourn, New York Times bestselling author

"A triumph!"—Tasha Alexander, New York Times bestselling author

"A rollicking good adventure."—Lauren Willig, New York Times bestselling author

"An utter delight."—M.J. Rose, New York Times bestselling author

---
THE DUKE OF OLYMPIA MEETS HIS MATCH:
From Juliana Gray comes an all-new historical romance novella featuring the famous—and often infamous—Duke of Olympia.
Aboard the luxuriously appointed SS Majestic, the duke is on a mission to retrieve a most important portfolio of papers and thwart a known anarchist. As the ship steams across the Atlantic, the duke's search for the notorious master of disguise forces him into close quarters with an American heiress and her widowed governess, Mrs. Penelope Schuyler
While Olympia has known his fair share of intriguing women, Mrs. Schuyler seems to have a way of challenging his expectations at every turn. But as their clandestine meetings lead them down an unexpected path, the duke must determine if Penelope is a woman to be trusted…
Praise for the novels of Juliana Gray
"[Gray] truly is the newest incandescent star in the romance firmament."— 
Booklist
(starred review)
"Exquisite characterizations, clever dialogue, and addictive prose."— 
Library Journal
(starred review)